I was lucky to be able to spend six years studying and getting to know a social group of badgers. The picture on the Wildlife home page is of Fern and two of her cubs. The lighter one is an erythristic cub, not an albino, you can see the stripes and the eyes were brown, not pink as in an albino. I had read about erythristic badgers but never though I would get to see one so you can imagine my surprise and delight when the first badger I saw at my study group was erythristic. Fern had three cubs when the picture was taken, the one missing from the photograph was also erythristic. What made the fact that two such cubs were born in that year so wonderful was that I knew I was moving to another part of the country to live, so it seemed very fitting that I should start and end with erythristics in the group.
Badgers became a huge part of my life.I spent many happy hours watching this group as well as a few other setts. I joined the local Badger Protection Group and did lots of work involving badgers; sett surveys, assisting people who were having problems with badgers as well as rescue work. I even met my husband through badgers. Badgers also led me to bird watching and enjoyment of other wildlife, so I have a lot to thank them for.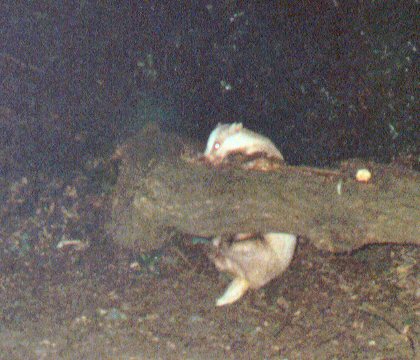 A poor image but taken before I acquired a good camera

Katie lost her mum when she was still too young to care for herself. She was found wandering around during daylight and reported to the RSPCA. We took care of her for five days in our badger proof unit. Once she had regained some weight and was less stressed we took her to a sanctuary in Somerset which specialises in caring for badgers. Katie was released into the wild with a group of orphaned cubs in the autumn of the same year.

Petra was hit by a car in Bedfordshire. Luckily for Petra, a car which came along the road shortly after was being driven by an off duty member of the RSPCA. Petra was taken to a vet for treatment and then delivered to us so that she could recover from her accident. We released Petra back to the place she was found three days later.

| | |
| --- | --- |
| A very laid back Petra | Petra being released |