Kevalesjondor Jovi
GCCF Grand Premier
GCCF Premier
Winner of Eight Best of Breeds
TICA Quadruple Grand Champion Alter
Best Egyptian Mau Alter North Europe 2008-2009
Best Egyptian Mau Alter North Europe 2007-2008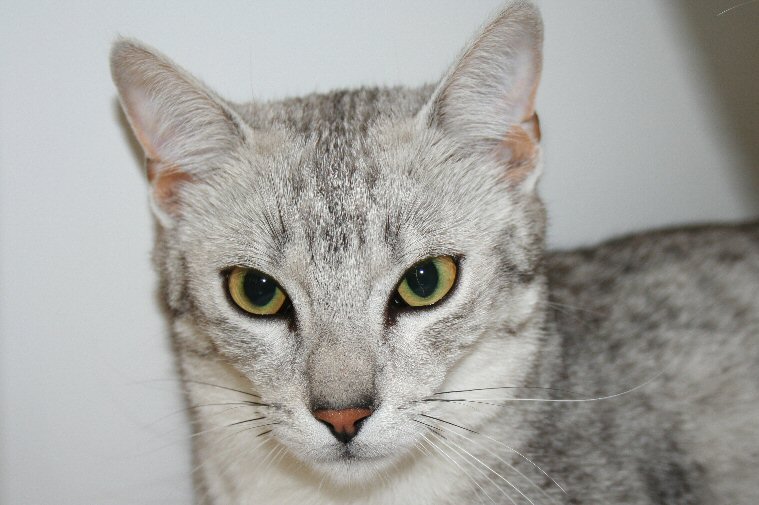 West of Scotland Cat Club
December 14th 2009
First Grand Premier giving Jovi his final Grand to make him our first Grand Premier. Also winner of Best Of Breed.
First in one side class

Scotia Cat Club
September 19th 2009
Jovi gained his second Grand Premier award.
His Judge's comments "Muscular, firm bodied Egyptian Mau lad of 2 years 4 months showing clear contrast to coat & good overall spotting. Good balance to head & profile, perfect bite & firm chin. Well-set ears. Expressive eyes of good shape, set & expression. Well ringed tail of good shape & length."
East Of Scotland
Jovi gained his first Grand Premier award after a break of nine months from the show bench and was also Best of Breed winner.
His judge said "Mature boy, good strong masculine head, the ears are medium in size and are well set. Good profile line and chin. Expressive well shaped eyes, green in colour. Good strong well muscled body, elegantly shaped limbs, good tail length. Good coat texture, good clear silver colouring thouout the base and undercoat. Well spotted body, clearly marked bracelets on the limbs, well marked rings on the tail.Head and facial markings quite well marked"
His litter brother Charma was also shown for the first time and gained his first Premier.
Spoticat Tica
December 14th 2008
We collected Jovi's Best Egyptian Mau Alter North Europe 2007-2008 award.
Although Jovi did not final this time, he did earn the final few points he needed to gain the title of Quadruple Grand Champion Alter.
National Cat Club
November 29th 2008
Jovi won his Open class making him a Premier; he also got Best of Breed and gained a first and two seconds in side classes.
Eastern Counties Cat Society
August 2nd 2008
Jovi delighted us by winning his Open class, gaining best of breed and his second PC.
Joe also gained three first's in his side classes. In the 25th Anniversary class A.V. Foreign Neuter he came first, beating an Imperial Grand Premier. Joe also got a second place in another of his side classes.
His little brother Kevalesjondor Jacbo, being shown for the first time also won his Open class. His sister Kevalesjondor Anjume was second in her Open class, also her first show. It was great to see our babies again so soon and to see them so happy and well presented by their new mum and dad.
Suffolk and Norfolk
May 17th 2008
Before anything else I have to say what a great show this was, well organised and the
Best in Show awards were so well done, even down to awarding Gold (1st) Silver (2nd) and Bronze (3rd) to tie in with the show's Olympic theme.
This was Jovi's first adult outing at a Championship show. Jovi did really well winning his Open class and also Best of Breed. He also did well in his side classes gaining three firsts and two seconds. Jovi was awarded his and our first Premier Certificate.
Comments from Jovi's Open class judge.
Celia Leighton ".....this boy was very friendly and with an extrovert personality. Lovely large flared wide based ears..... nicely rounded wedge head with good muzzle lines and a gently contoured nose.. Expressive rounded almond eyes which were just a gooseberry green colour. Nice well developed muscular body with long straight limbs and very well grown for his age. Very nice coat for length and texture which was a lovely clear pale to medium silver colouring with clearly defined black spotted pattern........ and pretty facial markings. Lovely nature and well shown."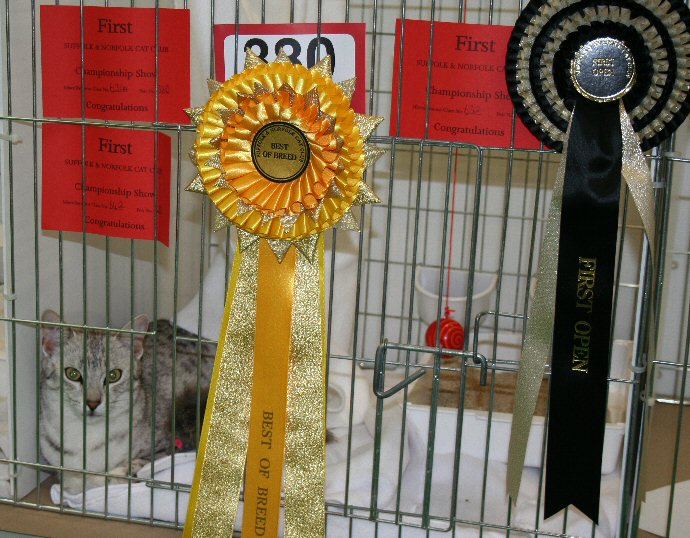 CoonTica
April 19th 2008
We are delighted to say that at Jovi's second Tica show he was made up to Double Grand Champion equalling the title gained by his big brother Keva. Jovi is still only 11 months old so we are really pleased with him.
Jovi was placed 4th in a class of 54 neuters by one judge and 8th in another class of 54. A big show and good wins. Comments from his judge Laura Cunningham
"Muscular, beautiful spots, nice contrast, textured feel to fur, and a worried expression, a good example of a minority breed."
Egyptian Mau Club Show
April 5th 2008
Jovi was placed 2nd in his Open class
Jovi was placed 1st in five of his side classes and 2nd in another to the same cat who beat him in the Open.
Following his busy show day Jovi was able to play in the garden in the snow wearing his harness.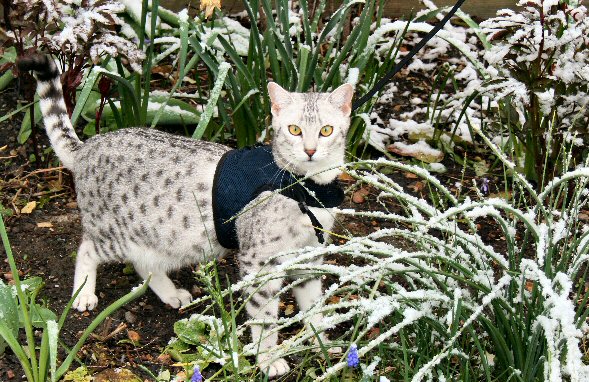 Naturally TICA
February 23rd 2008
Following the success of Keva at TICA shows we decided to enter Jovi in a TICA show.
His first show was a six ring show. We are delighted to announce that Jovi is now TICA Grand Champion Alter. Jovi came 2nd in a short-haired final in a class of fifteen cats, 3rd in an all breed final of twenty-six cats, 7th in an all breed final and finally 10th in an all breed final also against twenty-six cats, some of which already had Tica titles.
Some of the comments from his judges.
Bobbie Tullo -"nice worried look, good coat and well muscled, in good condition."
Thomas Andersen -"Very good example of his breed, rarely seen. Well grown, good muscle, good coat, good expression."
Vikki Fisher - "Nice Mau, nice confirmation, nice fur, good silver background."
Lisa Dickie - "Nice head, beautiful spotting, well grown."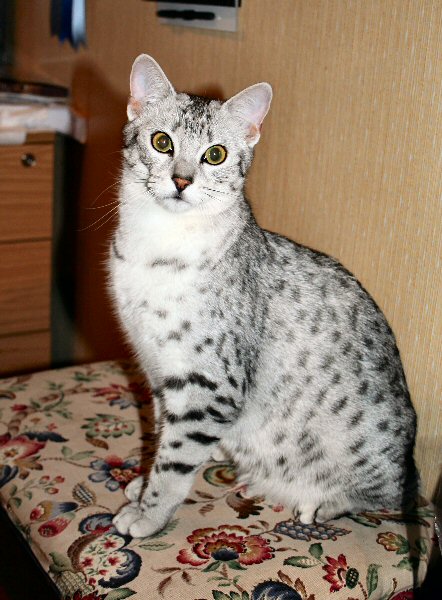 The Supreme Cat Show
November 17th 2007
We are delighted to announce that Jovi was placed first in his class.
Jovi is the first cat we have shown at the Supreme cat show, although both Isis and Keva did qualify. Extra special for us was the fact that Isis' breeder Mrs J Ryan was able to attend this Supreme and see her "grand kitten's" success.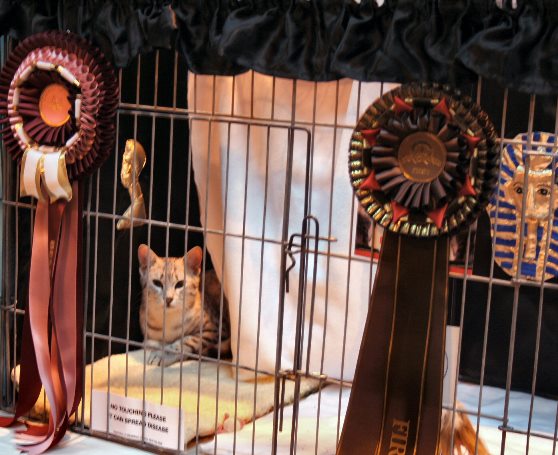 We are grateful to his judge Steve Crow for taking his time with a wriggly kitten.
Some of Mr Crow's comments.
"A handsome young man. well grown and of good type. Charcoal grey spots gives distinct contrast against clear silver ground. In super condition."

Kentish Cat Society
October 20th 2007
Jovi's second show. We are delighted to report that Jovi gained first in his
Open class and was Best of Breed, and in large side classes he was
awarded a 1st in a class of 6 and 2nd in a class of 9.
Herts and Middlesex Cat Club
September 1st 2007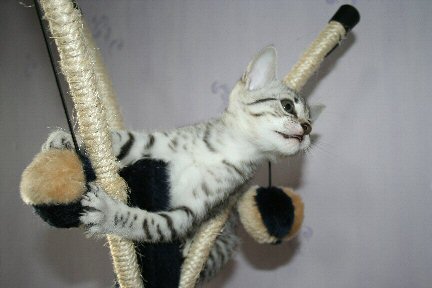 Jovi was awarded first in his Open class and also Best of Breed competing against five kittens. Jovi also qualified for the Supreme Cat Show to be held in Birmingham.
Comments from his judge Carole Jones
"Very clear facial markings. Profile shows a slight rise from bridge of of nose to forehead. Ears medium to large in size, broad at base cupped and correctly set. Eyes large in size, rounded almond in shape and correctly set. Coat excellent medium in length dense and resilient with a lovely sheen.".
We are also delighted to announce that his brother Trapau came second.
A very good day for the Kevalesjondor cattery.
The judge commented :
"Litter brother to winner, very similar overall although with a few subtle differences to warrant the placing."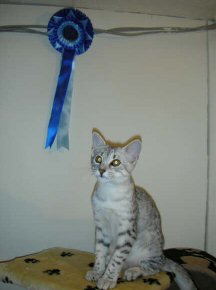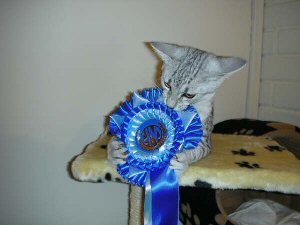 We are grateful to Trapau's new owners for sending us the pictures above.