HOME PAGE
Adcinsh Keva
3 times Best Of Breed Winner (GCCF)
Intermediate Certificate awarded
Double Grand Champion Alter (TICA)
Best Egyptian Mau Alter North Europe 2006-7
Although Keva's show career was sadly cut short he proved to be a first class cat.
The Kevalesjondor cattery is proud to have bred and shown such a beautiful boy.
He proved that Isis could produce award winning kittens and we are pleased that
his little brother Jovi has continued his winning ways.
Keva's Shows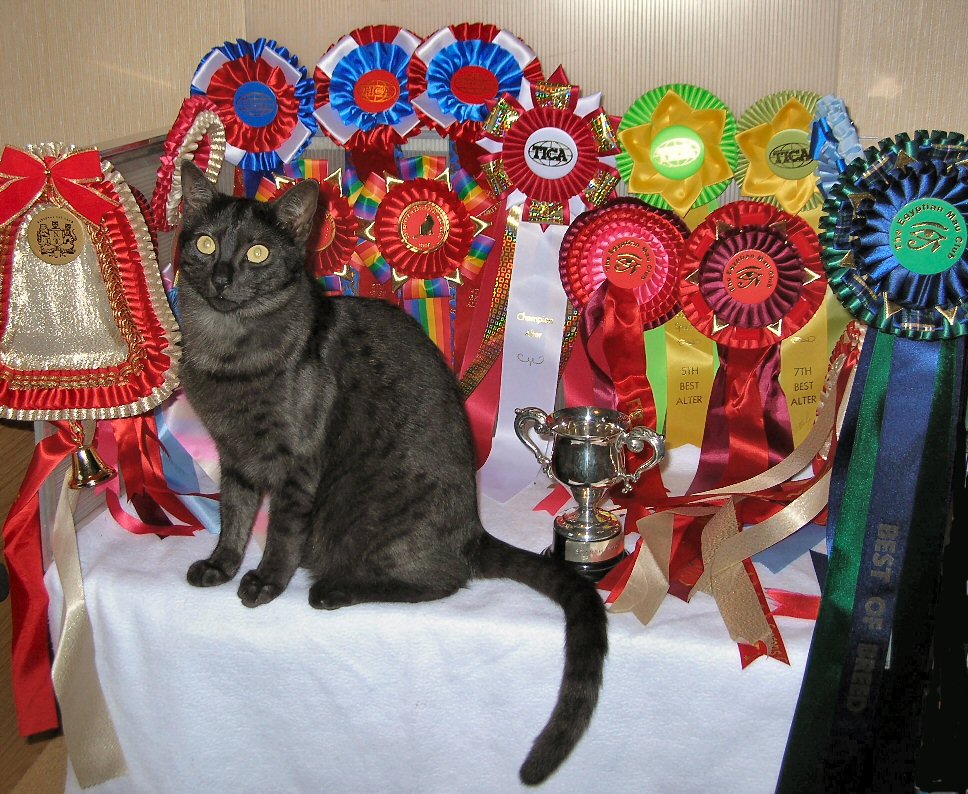 Octopussy Tica Show
On October 14th we took Keva to his second TICA show. This was a four ring show. Keva made three finals and was placed 4th in an All Breed Class. 5th in a Shorthaired Speciality class and 8th in a second All Breed Class.
Keva has now gained the title of Double Grand Champion Alter.
His judges made the following comments.
Adriana Kajon "Truly spectacular example of his breed, superb head and ear set, lovely spotting, superb coat, well presented."
Thomas Anderson "A beautiful elegant cat. Egyptian Mau's have to be nicely balanced with subtle power, he fits this perfectly. Good spotting and coat."
Massimo Picardello "Good muscular body, well proportioned, good spotted pattern and good wedge shaped face. A nice strong boy."
Vicky Shields. "Nice cat, good solid well proportioned build, nice coat with good spotting, which was well defined."
Coon Tica
On April 22nd we attended our first TICA show with Keva and Isis. Isis achieved 200 points.
Keva achieved a total of 450 points. He came seventh out of 40 cats in an all breed final and fifth out of 20 in a Short Haired neuter final. One of his American judges spoke to us at the end of the final and stated that he was very good type with good eyes and ear set and very good contrast. She also said we "should be encouraged to continue breeding his mother and continuing the line"
We are pleased to say this now makes Keva a TICA Champion Alter
Suffolk and Norfolk
20th May 2006
Keva won his first IC and was placed first in his Open and was first in his side class
Pamela Wilding Egyptian Mau Neuter IC " Such a fidget he just would not keep still. Nevertheless we could see he is very nice and with a good coat especially as I really like smokes. Good head, slightly rounded wedge, just slightly narrow muzzle but good chin. Ears good size, shape and setting. Lovely eyes. Strong body. Good legs, feet and tail."
Diana Harper Debutante Neuter "A huge boy of very good "Mau" type. He has a large rounded head, wide top & medium well set ears. In profile correct nose break of uniform width. Deep chin and level bite. Lovely green eyes set beneath a level brow. Huge body long legs and oval feet, long tail. Very fine and silky smoked coat of jet black with silvery roots on a pale silver ground this is tipped with black, very clear spots and markings. Excellent temperament presentation and condition."
Egyptian Mau Club Show
April 1st 2006
We were pleased to be able to take Keva to the first ever Egyptian Mau Club open show.
He continued his winning ways by winning his Open class and obtaining his third Best of Breed. Keva also won three of his side classes and was placed second in his fourth. He also wins a cup for Best of Breed Kitten.

Judges Comments
Anne Gregory Smoke Kitten and BOB " Big boy but still had some elegance. Rounded wedge of medium length with moderately large ears set a little high on the head. Good profile showing a gentle contour with a slight rise from the bridge of the nose to the forehead. Full almond eyes and level brow. The colour is looking golden but there is a green rim around the pupil. Firm and muscular body with good legs and tail. The coat was of medium length and close-lying with a lovely glossy sheen."
Celia Leighton AC Aristocrat Kitten "this well developed boy with a nice medium wide based ears which were well cupped with a slight flare. "Worried" expression....and a good even width nose of good length silky coat which was then displaying excellent spotted pattern which was well defined and showed such good contrast of black on black."
Michelle Codd AC Kitten 6-9 Month "with a good wedge, in profile, he has slight nose break and and level chin. Eyes... correct shape and straight set.. ears of medium size, very well set."
Coventry and Leicester Cat Club
25th February 2006
At his second show Keva won his Open class and Best of Breed. In his side classes he achieved two firsts and a second
Rosemary Fisher 1st and BOB "Very good head and body shape, well placed ears, very good eye shape and colour, nice nose and profile. Elegant neck and body, slightly higher hind legs, neat feet. Medium length tapering tail. Pale silver undercoat, good smoke overlay with visible spotting.
| | | |
| --- | --- | --- |
| | Keva's First Show | |
The 109th National Cat Club Show 2005
Keva won 1st in his Open class and Best of Breed. He also gained two seconds and a fourth in his side classes. We are very proud of him.
Val Anderson Open BOB " ...well grown with strong muscular yet elegant body. Head a slightly rounded wedge of medium length, ....Gently rounded muzzle that flows into the contours of the head and nose of uniform width. Well set quite large cupped ears with a broad base and held forward in profile. His eyes are set quite straight but could be larger, the colour developing at present being mainly yellow with green showing round the pupil. Well grown muscular body with strong limbs and rounded paws. Medium length tail , moderately thick at the base and slightly tapering. Silky and fine coat of medium length that lies close. ....A gentle boy shown in lovely condition"
Joyce Green Novice Kitten male 2nd "Very nice young kitten who is well proportioned. Fine silky coat texture, black markings well defined and showing through the coat, clear silver undercoat. Head shaping up well, nose of uniform width, moderately large ears well set, large eyes well set."
Phil Cornish Breeders Male kitten 2nd "Medium rounded wedge, slight rise from bridge of nose to forehead, uniform nose width, gently rounded muzzle, firm chin, level bite, medium ears broad based cupped forward alert, line of ears continues head plane, large rounded almond golden eyes. Body medium long and graceful with a muscular feel, elegant well balanced legs, round paws medium tail tapering slightly . |Coat medium length close lying good black smoke with tabby markings evident and good spots showing through on sides and tummy. Good temperament and condition."
We are sad to announce that Keva was killed in a road accident on Monday 2nd April 2007.
He is forever in our hearts and minds and will never be forgotten.
He had a short but rewarding show career resulting in being awarded the title of
Double Grand Champion Alter under TICA. But saddest of all for us is the fact we have lost a well loved member of our feline family. He will be sadly missed by all of us.