Table Mats
We can now offer a set of four glass table mats for just £30.00 plus postage of £7.50*. We currently have two sets available but you are free to select which pictures you would like, i.e you can pick mats from both sets. We would also welcome enquires for a selection of any of the other photographs on our web site, which would be supplied at the same price of £30.00 a set.

Table Mat Set 1 : White-tailed Sea Eagle in flight, Seal pup, Red Deer Stag, Badger.
Table Mat Set 2 : Osprey on nest, Otter, Golden Eagle, Red Squirrel.
The table mats are glass topped with a foam backing and measure approx 272 mm by 220 mm with a black edging.
Add four matching coasters for £5.00 with no additional postage.
* The table mat set weighs 2.5 kilos and the least expensive postage we can find is by courier. If you can collect from your local store within the Collect Plus Scheme (www.collectplus.co.uk) then postage can be reduced to £5.00
| | |
| --- | --- |
| Table Mats Set 1 | Table Mats Set 2 |
Coasters
We also have a selection of coasters at a cost of £1.30 each or £5.00 for four, plus postage of £1.50. Coaters are made of plastic and measure 100 mm square.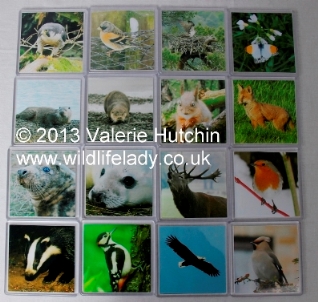 Above a selection of coasters
To order Coasters simply count the line and the column the photo you want to order is in and email us the details. For example to order the robin with lantern quote line 2, column 3. Please email if you would like any other photograph shown on this web site made into a coaster.
Keyrings.
All photographes can be made into key rings. Keyrings are £1.00 each plus postage of £0.60p
Photographs
All photographs on the site can be purchased in the following sizes, on photographic paper:

6" x 4" (15 x 10 cm) priced at £5.00 each

7" x 5" (17.78 x 12.7 cm) priced at £7.50 each

A4 (29.7 x 21 cm) priced at £10.00 each

Photographs will be supplied unmounted to allow you to mount and frame as you wish.

Please note : A small number of photographs cannot be supplied as A4 and I will advise you accordingly.

Photographs can also be supplied as a JPEG file via e-mail, priced at £7.50 per image.
Copyright of all images is retained by me, and images may be used for personal use only.

To order, please e-mail me with the page name, photo description (below the image) and size.
I will reply with payment details amd estimated delivery time. We will endeavour to respond within 24 hours, but please bear in mind we may be on a wildlife trip in which case we will reply on our return.

If you wish to use any image for commercial purposes, please contact me to discuss



valerie@wildlifelady.co.uk