Kevalesjondor Cattery
WELCOME TO OUR WORLD OF
EGYPTIAN MAU'S
Kevalesjondor Cattery

We are a small cattery based in central Scotland. We used to live in Bedfordshire, but made the move to Scotland in the spring of 2009.

Jandebo Isis was our first pedigree cat and our foundation queen. Isis came into our lives like a whirlwind. She was like no other cat we had owned. Isis and her breeder, Mrs J Ryan did a good job of persuading us into the world of showing and breeding, thereby introducing us to a new and engaging hobby.

Isis produced two wonderful neuter show boys for us; a smoke, Keva, and our current silver neuter Jovi and then finally our long awaited girl, Martinajo.

We have added a lovely bronze girl Chantina Monji to our cattery.We are the only Mau breeders in Scotland breeding bronze Maus and to our knowledge own the only bronze Maus in Scotland Monji and her daughter Edipau. We would be pleased to know if we are wrong in that aspect. There are other bronze Maus being shown in Scotland and the rest of the UK.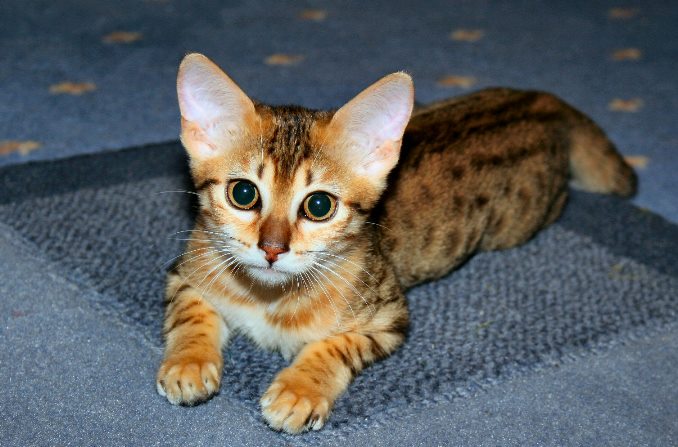 Chantina Monji at 4 months.
Our kittens are all raised in our home and experience all the sights and sounds of a normal home. None of the cats live in runs.

Our kittens are bred for temperament, type and health. It is our aim to find "forever" homes for those that do not remain with us. All of our new owners are vetted before the kittens leave us and owners are asked to sign an agreement. We prefer that the kittens remain indoor cats. Maus are a striking breed and the risk of theft should not be underestimated. Their inquisitive nature and turn of speed can also lead them into trouble.
All kittens leave us vaccinated, have a pedigree showing four generations, GCCF transfer papers and a GCCF code of conduct. A care sheet is provided giving details of current diet, litter being used and other useful information. Samples of their current food and litter are also provided. We feel responsible for our kittens even after they have left the cattery and encourage the owners to stay in contact with us. We are always available to answer questions. We may not always have an answer but will endeavour to assist.
Please visit our kitten pages for details of current kittens, future litters and to see our previous babies.
Cattery Name
We often get asked how to pronounce the cattery name, it is
Key var lay john door. Our cattery name and the names of many of our kittens comes from the first letters of the names of friends and family. Kevalesjondor being our names and that of our parents.
We are members of the Egyptian Mau Club and The Pyramid Club.